Where has your tea taken you - Paige

From Australia to Brazil and everywhere in-between
On a whimsical journey…
or even just a physical one
Your Tea is being sipped and enjoyed along paths of adventure, self-discovery, realisation, and 'goal kicking'
HONOUR YOURSELF AND YOUR JOURNEY, WITH TEA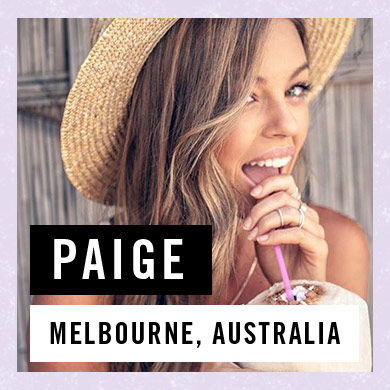 After finishing school I launched my own fashion label and business, Wetfeather. Wetfeather is about empowering women to embrace their own style.
I learnt from a young age that you are strongest on your own two feet.
In order to find myself and my best self I have moved countries (alone), let go of many attachments, to people, relationships, locations; I have found they are all meaningless if you cannot be happy and healthy within yourself
Finding a balance in myself and my health has been such an exploration and passion for me. 
Towards the end of high school I had glandular fever, followed by a virus from a mosquito overseas, chronic fatigue, and post viral syndrome following this. Since all this I have focused a lot of energy into enjoying every aspect of life (good and bad), and nurturing my health from every angle.  
Meditation is one of the things which has been a source of pain relief, mental calmness and clarity for me, and if done right, it can be a major energy enhancer too. I meditate daily, even just for 20 minutes before I go to sleep. 
I love an infrared sauna followed by a dip in the ocean, I follow a paleo diet (changed my life), yoga daily, and Sleep Tea allows some downtime in the evening followed by a chakra clearing meditation. 
I start every morning with a deep breath, to remind myself that everything is okay and that I am doing a great job. 
This is how I honour myself.
SIP TEA, PLAN A TRIP, CHANGE YOUR LIFE

From Australia to Brazil and everywhere in-between
On a whimsical journey…or even just a physical one
Your Tea is being sipped and enjoyed along paths of adventure, self-discovery, realisation, and 'goal kicking'
HONOUR YOURSELF AND YOUR JOURNEY, WITH TEA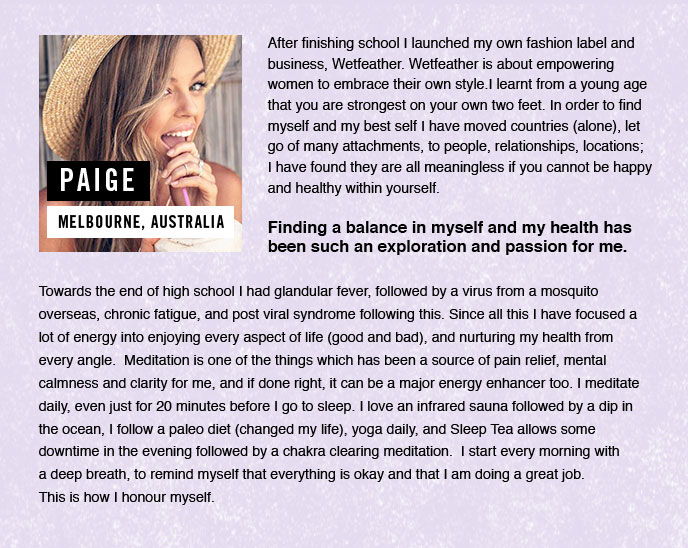 From Australia to Brazil and everywhere in-between
On a whimsical journey…or even just a physical one
Your Tea is being sipped and enjoyed along paths of adventure, self-discovery, realisation, and 'goal kicking'
HONOUR YOURSELF AND YOUR JOURNEY, WITH TEA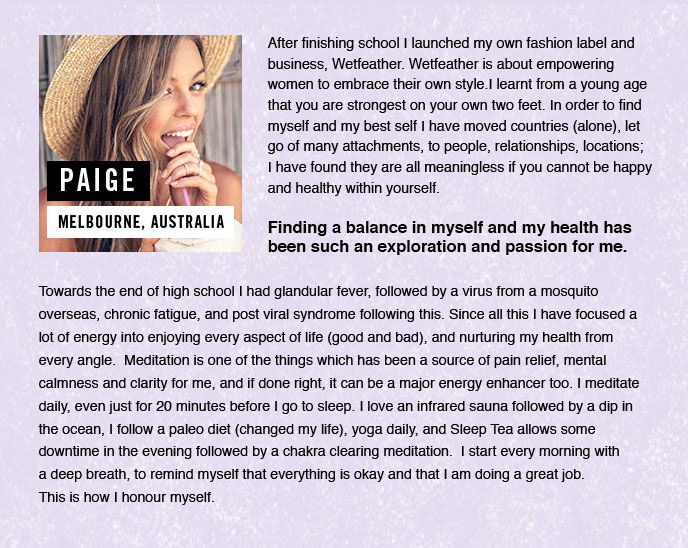 DAILY RITUALS TO HONOUR YOURSELF
DAILY RITUALS TO HONOUR YOURSELF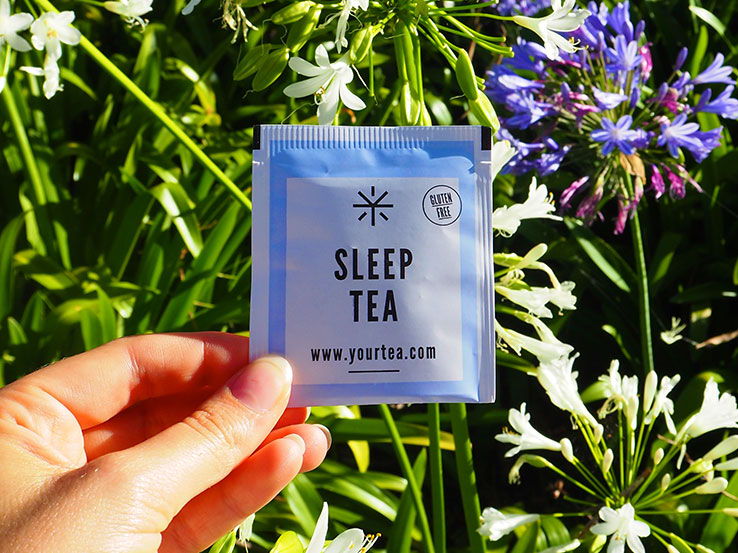 SHOP PAIGE'S FAVOURITE SIPS